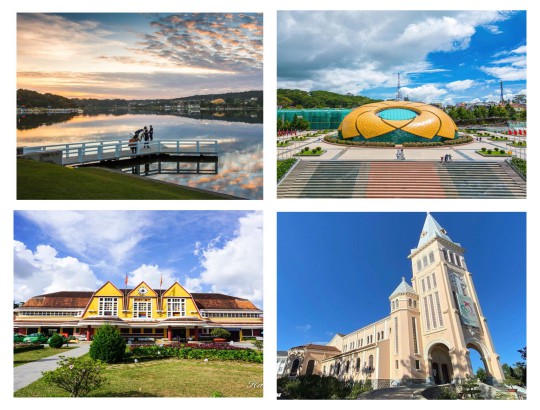 DALAT PACKAGE 5D4N
Code: DALAT5D4N
Price : Contact us for the best price
---
---
DA LAT PACKAGE 5D4N
DA LAT 5夜4天
TOUR DESCRIPTION
旅游行程描述:
Day 1: Da Lat Arrival – Xuan Huong Lake – Lam Vien Square - Dalat Cathedral – Dalat Railway station - Welcome Dinner (D)
Day 2: Linh Phuoc Pagoda – Datanla Waterfall – Clay Tunnel - Truc Lam Monastary (B,L,D)
Day 3: Love Valley – Vinh Tien Wine cellar – Hydrangea garden – Bao Dai Palace 3 (B,L,D)
Day 4: Crazy House – Domaine De Marie Church – Pongour waterfall – Linh An Pagoda (B,L,D)
Day 5: Da Lat departure (B)
第一天:到 Dat Lat - Xuan Huong 湖 - Lam Vien 广场 - Da Lat 大教堂 - Da Lat 火车站 -欢迎晚餐(D)
第二天:Linh Phuoc宝塔 – Datanla瀑布 – 粘土隧道 – Truc Lam修道院 (B,L,D)
第三天:爱情谷 – Vinh Tien 酒窖 – 绣球花园 – Bao Dai宫 3 (B,L,D)
第四天:疯狂屋 – Domaine De Marie 教堂 – Pongour 瀑布 – Linh An宝塔(B,L,D)
第五天:离开Da Lat(B)
DETAILED ITINERARY
旅程
Day 1: Da Lat Arrival – Xuan Huong Lake – Lam Vien Square - Dalat Cathedral – Dalat Railway station - Welcome Dinner (D)
第一天:到Da Lat - Xuan Huong 湖 - Lam Vien 广场 - Dalat 大教堂 - Dalat 火车站 - 欢迎晚餐(D)
Upon arrival in Lien Khuong international airport (Dalat), our representative will meet and transfer you to Dalat center.
Then check in Xuan Huong Lake – Lam Vien Square - It is one of the most famous destinations of Dalat because of its natural beauty and its special architecture, such as giant Wild Sunflower, colorful glass-based Artichoke Flower Bud. Moreover, amusement park and shopping mall in the square's basement is really impressing.
You will visit Dalat Cathedral, which is the largest church of the whole Diocese of Dalat is also one of the first ancient architecture built by the French.
Then, visit Da Lat Railway station - The station has been recognized as a national cultural site and is very much a symbol of French Indochina.
19:00: Enjoy dinner at local restaurant
Overnight in Dalat
到 Lien Khuong国际机场(Dalat)后,我们的代表将与您会面并将您送往Dalat市中心。
然后前往Xuan Huong湖 - Lam Vien广场 - 它是Da Lat最著名的景点之一,因为它的自然美景和特殊的建筑,如巨大的野生向日葵、色彩缤纷的玻璃朝鲜蓟花蕾。此外,广场地下层的游乐园和购物中心也令人印象深刻
您将参观Dalat大教堂,它是整个Dalat教区最大的教堂,也是法国人最早建造的古建筑之一
然后,参观Dalat火车站 - 该车站已被认定为国家文化遗址,是法属印度支那的象征
19:00:在当地餐厅用晚餐
在Dalat过夜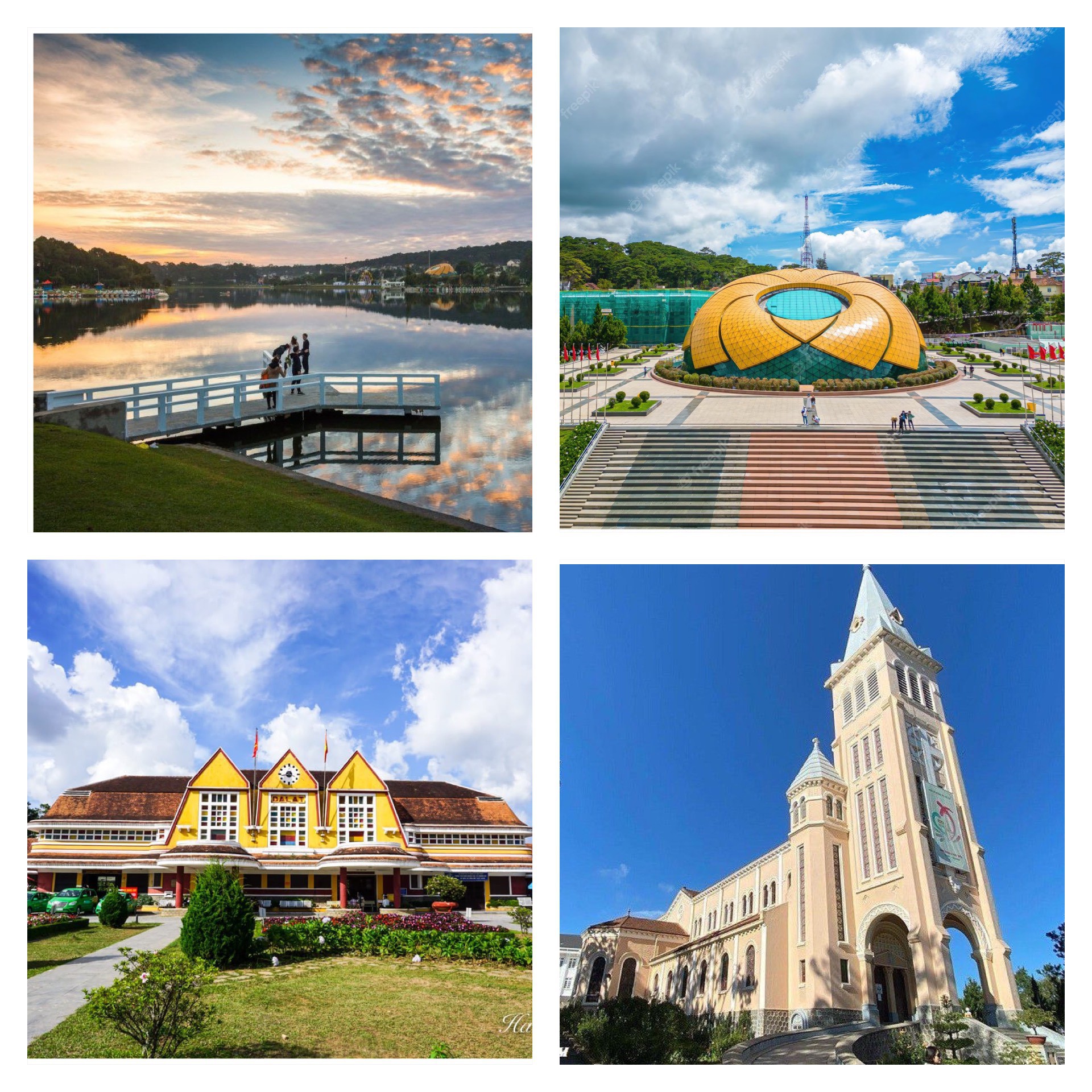 Day 2: Linh Phuoc Pagoda - Datanla Waterfall – Clay Tunnel - Truc Lam Monastery (B,L,D)
第二天:Linh Phuoc 宝塔 - Datanla瀑布 -粘土隧道 -Truc Lam 修道院 (B,L,D)
08:30 Pick up from your hotel in Dalat.
Depart to visit Ling Phuoc Pagoda. Linh Phuoc Pagoda is one of the most famous pagodas in Da Lat, the pagoda is uniquely designed with fine carvings of porcelains and giant structures keep many records of Vietnam as well the world. The first unique feature that you can see when arrived this place is that the whole building is inlaid with terracotta tiles from outside, so a lot of visitors have given the temple another name that is the ceramic pagoda. Another unique thing that attracts tourists to come here is the women buddha statue made of 650 000 immortal flowers, the statue is 17m high and weighs about 3 tons is a record work. Asia confirms: "The largest flower Buddha statue in Asia."
Then, continue to visit Datanla Waterfall, located in a beautiful valley, 5 km from the city centre. Here you can experience an exciting roller coaster ride (included). Datanla roller coaster is used both as a thrill attraction and also as a real transportation system. The coaster is used to reach and visit Datanla Falls which are at the bottom of a gorge. Unlike other roller coasters, the departure is located at the top of the track and the sleds have to go down the slope to reach the bottom of the ride.
12:30: Lunch at local restaurant
After lunch, we visit Dalat Clay Sculptures Tunnel. It was built next by Tuyen Lam lake in 2010 and the owner of this project is Mr. Trinh Ba Dung, a businessman from Saigon. At the beginning of the project, Mr. Dung built two clay houses with basalt clay mixed with a special admixture that allowed the clay to get hard without baking through high temperatures. After success with two clay houses, he continued to build a tunnel of about 2km long, reproducing the entire development of Dalat city. When entering the tourist gate, you will be able to admire the majestic natural scenery such as the elephant, monkeys, mountain forests Langbiang ...
Then visit Truc Lam Zen Monastery. From there, we can see the panoramic view of Tuyen Lam lake and Elephant mountain in the far distance. With its advantage of location, Truc Lam Zen monastery was designed with a new style of architecture. The sanctum has rectangle shape which is toward the South. Sanctum surroundings are a lot of traditional Vietnamese pagodas which were built by ferroconcrete. With the beautiful landscapes, the pagoda is not only a place for meditation but also an ideal place for visiting.
19:00: Dinner in a local restaurant.
Overnight in Dalat
08:30 从Dalat酒店接您
出发前往参观Linh Phuoc塔。Linh Phuoc塔是Da Lat最著名的佛塔之一,该塔设计独特,瓷器雕刻精美,巨型结构保留了越南乃至世界的许多记录。来到这里,第一个看到的独特之处就是整个建筑都是从外面镶嵌的赤土砖,所以很多游客给这座寺庙起了另一个名字,那就是陶塔。吸引游客前来的另一奇特之处是由65万朵仙花打造而成的女佛像,雕像高17米,重约3吨,堪称创纪录之作。亚洲证实:"亚洲最大的花佛像"
然后,继续参观位于美丽山谷中的达坦拉瀑布 (Datanla Waterfall),距市中心 5 公里。在这里您可以体验刺激的过山车之旅(含)。 Datanla 过山车既可用作惊险刺激的景点,也可用作真正的交通系统。过山车用于到达并参观位于峡谷底部的达坦拉瀑布。与其他过山车不同的是,出发点位于轨道顶部,雪橇必须沿着斜坡走下才能到达游乐设施的底部
12:30:在当地餐厅用午餐
午餐后,我们参观Dalat 粘土雕塑隧道。它于2010年在Tuyen Lam湖旁边建造,该项目的业主是来自Sai Gon的商人Trinh Ba Dung先生。在项目开始时,Dung先生用玄武岩粘土建造了两座粘土房屋,其中混合了一种特殊的混合物,这种混合物可以使粘土在不经过高温烘烤的情况下变硬。在两栋粘土房屋获得成功后,他继续修建了一条约2公里长的隧道,再现了Dalat 市的整个发展过程。走进旅游大门,您就能欣赏到大象、猴子、山林狼狈等雄伟的自然风光……
随后参观Truc Lam禅寺。从那里我们可以看到远处Tuyet Lam湖和象山的全景。Truc Lam禅寺凭借其区位优势,采用了新的建筑风格。殿呈长方形,坐北朝南。圣殿周围有很多传统的越南宝塔,都是用钢筋混凝土建造的。塔内风景优美,不仅是冥想的场所,也是游览的理想场所
19:00:在当地餐厅用晚餐
在Dalat过夜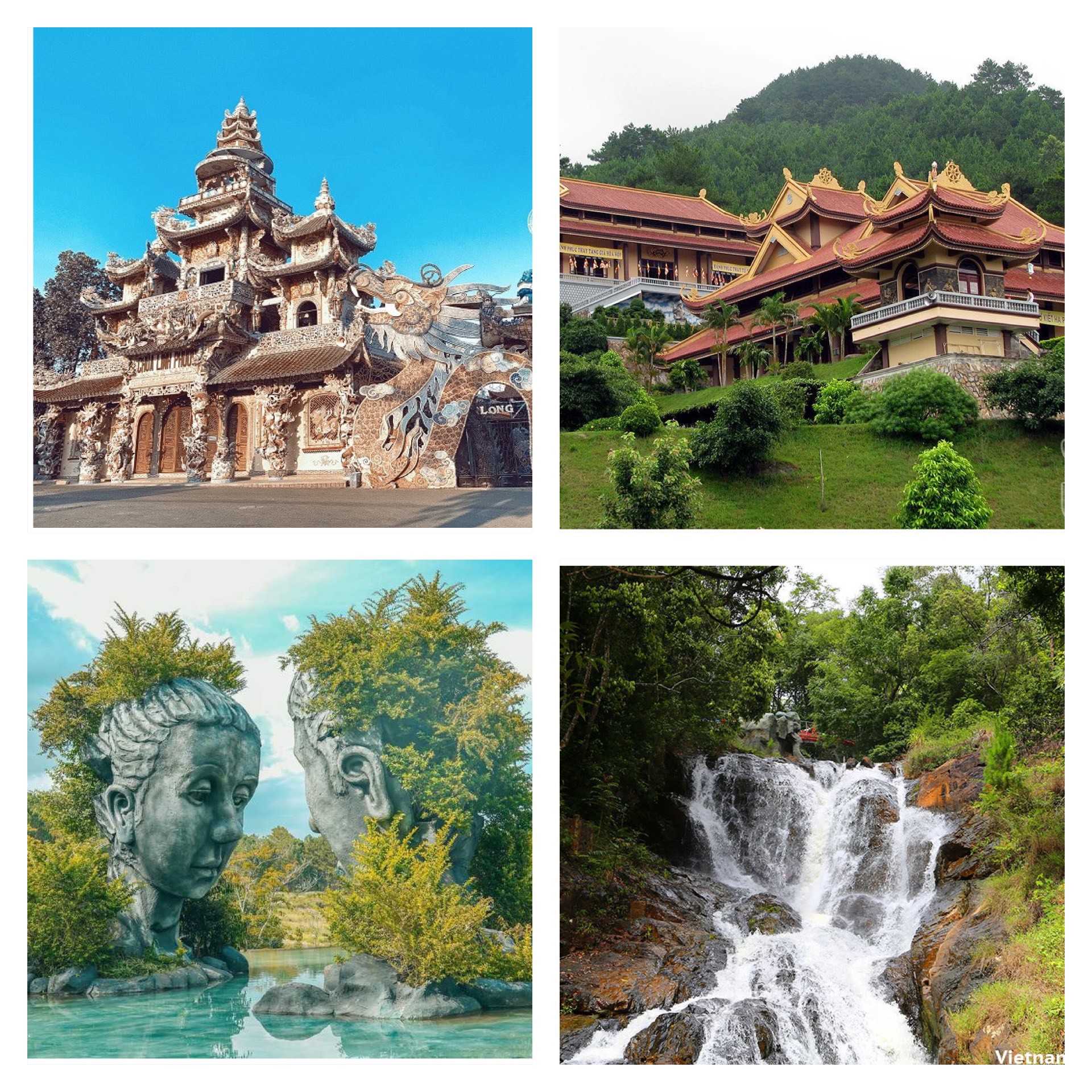 Day 3: Love valley – Vinh Tien – Hydrangea Garden – Bao Dai Palace 3 (B,L,D)
第三天:爱情谷 - Vinh Tien 酒窖 - 绣球花园 - Bao Dai宫 3(B,LD)
08:00: After breakfast we depart to visit Love valley, it has been one of the most picturesque and romantic sites of the city, with many deep valleys and endless pine forests. The tranquil Da Thien Lake, which was created in 1972, also adds a great deal to the attractiveness of the valley in general. To truly appreciate the sceneries is not hard because travelers can easily follow the natural tracks and staircases all around the valley to visit and admire the gorgeous flower gates and statues. Having lunch at local restaurant
After lunch we continue to visit Vinh Tien wine cellar– a tourist attraction for the artichoke tea processing factory and Vinh Tien wine.
Then, check in Hydrangea Garden – a hot pot for young people to check-in in the city of flowers as well as an ideal place for couples to take wedding photos.
Then visit Bao Dai Summer Palace or Bao Dai Palace 3 which is one of the most famous tourist attractions in Dalat city. This is the mansion where Bao Dai – the last king of Vietnam, lived and worked. Palace III was built from 1933 to 1938, designed by 2 French architects and Huynh Tan Phat architect. Because this was a working place of the last king so it has another name: Biet Dien Quoc Truong (palace of head of state). Located on the top of a mountain, this palace is sorrounded by vast pine forest. Palace III is an ideal tourist attraction for family and nature – lover.
18:00: Come back to Da Lat City, take a rest and have dinner
Overnight in Dalat
08:00: 早餐后,我们出发前往爱情谷,它是这座城市最美丽、最浪漫的景点之一,拥有许多深邃的山谷和一望无际的松树林。 1972 年形成的宁静的 Da Thien 湖也为整个山谷增添了很多吸引力。真正欣赏风景并不难,因为游客可以轻松地沿着山谷周围的自然轨道和楼梯参观和欣赏华丽的花门和雕像。在当地餐厅用午餐
午餐后,我们继续参观永仙酒窖 - 朝鲜蓟茶加工厂和永仙葡萄酒的旅游景点
随后前往绣球园——花城里年轻人打卡的火锅店,也是情侣拍摄婚纱照的理想场所
然后参观Bao Dai夏宫或Bao Dai宫 3,这是Dalat市最著名的旅游景点之一。这是越南最后一位国王Bao Dai生活和工作的宅邸。第三宫建于1933年至1938年,由两位法国建筑师和Huynh Tan Phat建筑师设计。因为这是最后一位国王的工作场所,所以它还有另一个名字:Biet Dien Quoc Truong(国家元首宫殿)。这座宫殿位于山顶,周围环绕着广阔的松树林。 Palace III 是家庭和自然爱好者的理想旅游景点
18:00:回来Dalat,休息并用晚餐
在Dalat 过夜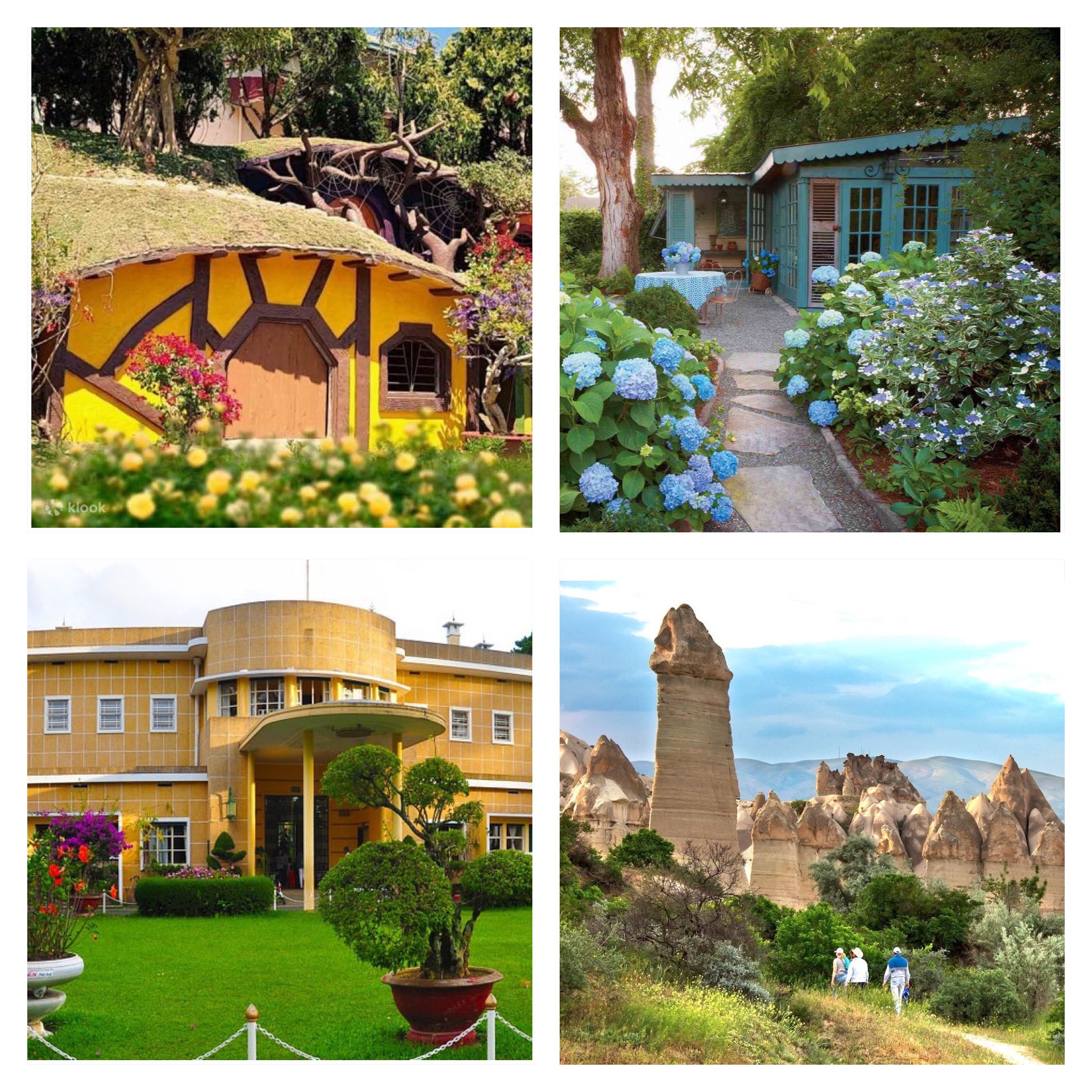 Day 4: Crazy House – Domaine De Marie Church - Pongour waterfall – Linh An Pagoda (B,L,D)
第四天:疯狂屋 - Domaine De Marie 教堂 - Pongour waterfall - Linh An 宝塔(B,L,D)
After breakfast, start to visit Crazy House – Wild, weird, wonderful... there are many ways to describe the Crazy House (also known as Hang Nga Guesthouse) in Dalat, a relaxed mountain resort town in southern Vietnam. Standing in stark contrast to Dalat's French colonial villas, the bizarre avant garde guesthouse is a maze of spiral staircases, sculptural bedrooms, undulating surfaces, swirls of bright colors, narrow bridges and hidden nooks.
Visit Domaine De Marie Church
Have luch at local restaurant
After lunch, depart to visit Linh An pagoda. Making their way to Linh An pagoda, the 2nd Truc Lam Zen Monastery at Dalat city, visitors have to pass zigzag patches, bumpy Pine Hills in odd shapes, and drive through Nung people's villages where tea and coffee are grown popularly. From the provincial road 725, Linh An pagoda appears as the head of a dragon; The pagoda is located at an elevation of 1,080m above sea level; there are green pine tree hills in the back of the pagoda and Elephant waterfall in front of it; therefore, the air here is cool year around and quite peaceful.
Then leave the hustle and bustle in the city and take a trip to natural tourist attractions in Dalat. Pongour Waterfall is an ideal place for you to do it. When visiting here, you can dip yourself into natural beauty and breath fresh air, which helps you reduce stress and gives you a piece of peace in your mind. Locals often call it the 7-storey waterfall. The cascade height is about 40 meters and it is associated with 100 meters through terraced stones. 25,000 square meters of primeval forest cover all the corners of the waterfall. Furthermore, the vegetational cover is so diverse here.
19:00: Have dinner at local restaurant
Overnight in Dalat
早餐后,开始参观疯狂屋之家——狂野、怪异、奇妙……可以用多种方式来形容位于Dalat的疯狂屋之家(又称Hang Nga Guesthouse),这是一个轻松的山地度假小镇。越南南部。与Dalat的法国殖民别墅形成鲜明对比的是,这座奇异的前卫宾馆是一个由螺旋楼梯、雕塑般的卧室、起伏的表面、明亮的色彩漩涡、狭窄的桥梁和隐藏的角落组成的迷宫。
参观Domaine De Marie教堂
在当地餐厅用午餐
午餐后,前往参观Linh An宝塔。在前往Da Lat市第二Truc Lam禅寺——Linh An寺的路上,游客必须经过曲折的小路、形状奇特、崎岖不平的松山,并开车穿过盛产茶叶和咖啡的农人村庄。从725省道上看,Linh An宝塔就像一条龙的头;该塔海拔1080米;塔后有青松山,前有象瀑布;因此,这里常年空气凉爽,十分宁静
然后离开城市的喧嚣,去Dalat的自然旅游景点游览。 Pongour Waterfall 瀑布是您体验这一活动的理想场所。来到这里,您可以沉浸在自然美景中,呼吸新鲜空气,这有助于减轻压力,让您心灵得到一丝平静。当地人常称其为七层瀑布。瀑布高度约40米,通过阶石与100米相连。 25000平方米的原始森林覆盖了瀑布的各个角落。此外,这里的植被覆盖非常多样化
19:00:在当地餐厅用晚餐
在Dalat过夜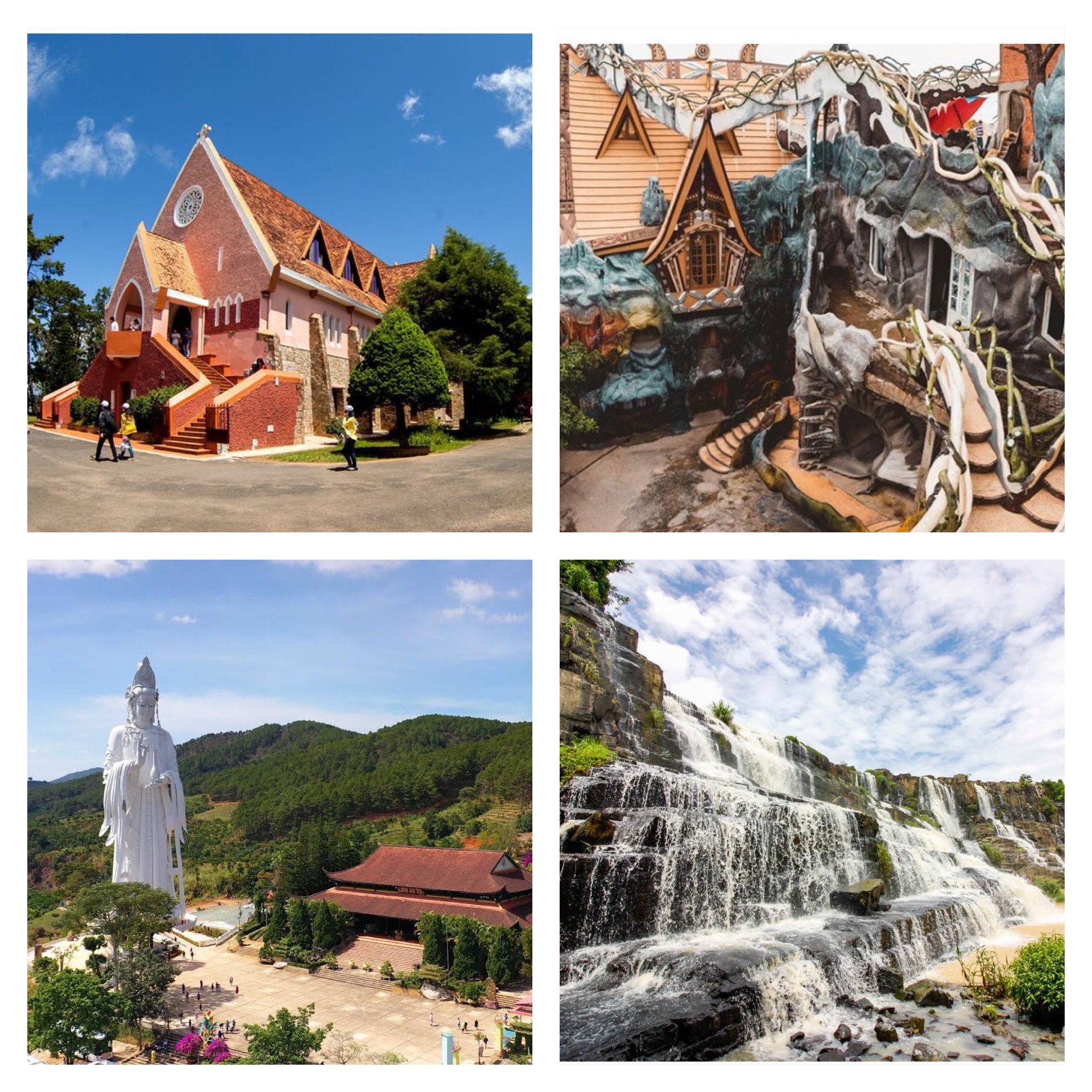 Day 5: Da Lat Departure (B)
第五天:离开Dalat (B)
Pick up to the airport before your flight time 3 hours
航班起飞前 3 小时到机场接客人
INCLUSIONS:
包括:
- All private transfer (from day 1 to day 5)
- All hotel accommodation on tour
- Private English Speaking Tour Guide
- Meals as indicated on tour
- Entrance fees
- Mineral water on tour
- 所有私人接送(从第一天到第五天)
- 行程中所有酒店住宿
- 私人英语导游
- 行程中注明的膳食
- 入门费
- 行程中的矿水
EXCLUSIONS:
排除:
- Visa to Vietnam (tourists must obtain before traveling to Vietnam)
- International flights to and from Vietnam
- Airport departure tax if required
- Travel insurance (trip, medical and personal)
- Daily personal expenses
- Early check-in or late check-out at hotels
- Single supplement
- Drink during meals
- Bank transfer fee
- Tip and gratuity for local tour guides and driver
- 越南签证(游客必须有在前往越南之前获得)
- 往返越南的国际航班
- 机场离境税(如果需要)
- 旅行保险(旅行、医疗和个人)
- 日常个人开支
- 酒店提早入住或延迟退房
- 单次补充
- 用餐时饮用
- 银行转账费用
- 当地导游和司机的小费和小费
Recommend for you: