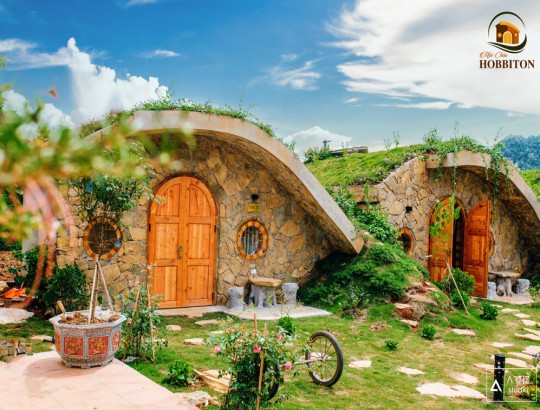 MOC CHAU HOBBITON
Code: MCHOB
Price : Contact us for the best price
---
---
Resort address: Truong Giang Intersection, sub-zone 70, Nong Truong Town, Moc Chau, Son La
Just opened at the end of 2019, this fairy brand-new homestay is attractive to tourists whenever come to Moc Chau thanks to its beauty and convenience.
True to its name, the highlight of Moc Chau Hobbiton is 10 beautiful bungalows like the house of the tiny Hobbits in the famous Lord of the Rings fairy tale series.
The bungalows are built in a close to nature style, with stone walls, grass-roofed roofs, impressive flower planting.
The resort is like a fairy village with flower-filled houses on the roof, round windows like pretty eyes. Every corner can produce wonderful photos.
HOBBITON DOUBLE
Bed: 1

Maximum occupacy: 3

Size: 25 sqm

Number of room: 3

Breakfast
HOBBITON TWIN
Bed: 2

Maximum occupacy: 6

Size: 35 sqm

Number of room: 4

Breakfast
HOBBITON 4-SEASONED ROOM
Bed: 1

Maximum occupacy: 3

Size: 20 sqm

Number of room: 4

Breakfast
HOBBITON CASTLE
Bed: 1

Maximum occupacy: 3

Size: 25 sqm

Number of room: 6

Breakfast
Recommend for you: