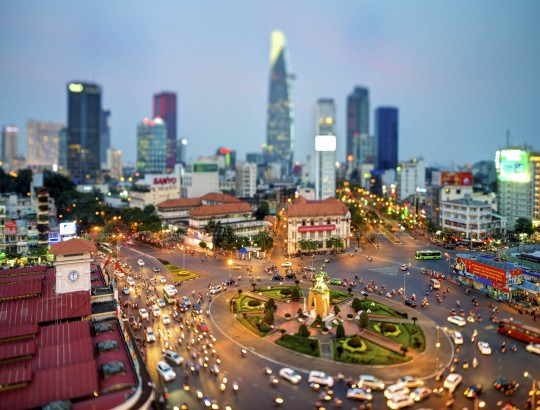 Sai Gon – Mui Ne – Mekong Tours 6D5N
Code: SG–MN–MT6
Price : Contact us for the best price
---
---
TOUR DESCRIPTION
Day 1: Ho Chi Minh Arrival – Cu Chi Tunnel – Da Lat (L,D)
Day 2: Dat Lat full Day City Tour (B, L,D)
Day 3: Dalat City - Mui Ne (B,L,D)
Day 4: Relaxing in Mui Ne – Ho Chi Minh (B, L)
Day 5: Mekong Delta Tour 1 Day (B,L)
Day 6: Ho Chi Minh City Tour - Departure (B,L)
DETAILED ITINERARY
Day 1: Ho Chi Minh Arrival – Cu Chi Tunnel – Da Lat - Welcome Dinner (L,D)
Our representative will show your name at airport to welcome you, then you will be driven to Ho Chi Minh City
After that we will depart to visit Cu Chi Tunnel. Visitors will arrive Cu Chi tunnels after a drive of 1,5 hours. Our tour guide will give you an overview introduction of Cu Chi and its legendary history. A documentary film about the tunnels will explain you about the tunnels histories and how fierce the war was in the area. You will be guided to the tunnels system including the weapon factory, hospitals, kitchens and crawl under the tunnels…
After that travelers can try delicious manioc which was the main food for guerilla-warriors in Cu Chi during the war. Visitors can try to fire off an AK47 or MK16 or machine guns at the nearby shooting range
After the trip, depart to Da Lat City
Dinner will be serve at Da Lat restaurant
Accommodation: Stay overnight in Da Lat Plaza Hotel 3***
Day 2: Dalat full day city tour (B,L,D)
08:30 Pick up from hotel in Da Lat. Getting little bit outside the city, you can enjoy airy space at RoBin Hill, Dalat Cable Car Station to get the panorama view of the Da Lat City and enjoy the marvelous sight of the pine forested valley stretched down to the South. Then board the cable car for an enjoyable ride above pine forests and rolling hills to Truc Lam Zen Monastery – the largest Institute of Meditation in Vietnam. Built in 1994, the young monastery overlook Tuyen Lam Lake and follows the practice of Truc Lam, started by Emperor Tran Nhan Tong (1258-1308), who gave up his throne to travel around Vietnam as a Buddhist monk. Visit the pagoda and then take a relaxing boat trip on Tuyen Lam Lake, also known as the lake where rivers, springs and forests meet. Built in the 1980's, it is one of the largest and most beautiful lakes in the area. Continue to visit Datanla Waterfall, located in a beautiful valley, 5 km from the city centre. Here you can experience an exciting roller coaster ride (included). Datanla roller coaster is used both as a thrill attraction and also as a real transportation system. The coaster is used to reach and visit Datanla Falls which are at the bottom of a gorge. Unlike other roller coasters, the departure is located at the top of the track and the sleds have to go down the slope to reach the bottom of the ride.
Late afternoon, we visit Crazy house, and City Garden
Dinner in a local restaurant.
Accommodation: Stay overnight in Da Lat Plaza Hotel 3***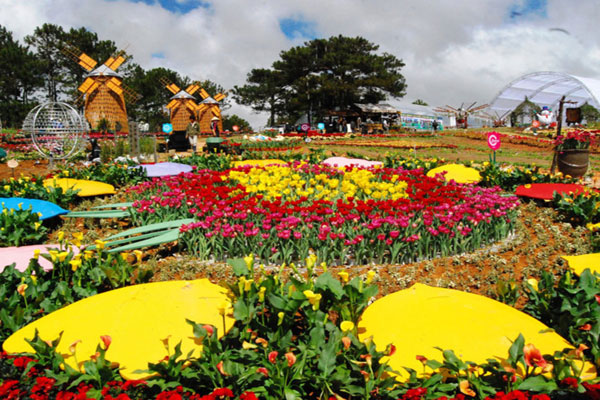 Day 3: Dalat City - Mui Ne (B,L,D)
After breakfast at hotel, we will go to visit Valley of love, Lam Vien Station, Xuan Huong Lake
Lunch will be serve at local restaurant
14:30: After lunch we will depart to Mui Ne
18:00: Mui Ne arrival, check in hotel and relaxing
19:00 Dinner will be serve at local restaurant
Accommodation: Stay overnight in Thao Ha Mui Ne Hotel 3*
Day 4: Relax at the Mui Ne beach – Ho Chi Minh (B,L)
After breakfast, we visit:
Wine castle, which is a unique architecture in Vietnam, stores a variety of red wines, it's the best choice for international wine lovers. It takes guests back to the Middle Ages of Europe with a large square and ancient arch. By visiting RD wine castle, guests will have the opportunity to discover distinctive wine cellars. You can drop into the basement to witness wine bottles imported from Napa valley, California or the groundfloor for tasting international types of wine and visiting the wine supermarket with a variety of local specialties. The most romantic castle is the terrace, where boasts a picturesque orchid garden and a bar – café for guests to sip passionate glasses of wine.
About 18 km of North East Phan Thiet, Fairy stream is an extremely romantic poetic place, one side of Suoi Tien is white and red sand mountain intermixing together, another side are rows of shading coconut palms, lines of trees with luxuriant leaves. All of these things create a poetic and charming stream.
In the late afternoon, we have sunset in White Sand Dunes. The Bau Trang area has 3 lakes: Bau Ong (Gentleman Lake), Bau Ba (Lady Lake) which is the largest, and Bau Xoai (Mango Lake) which is the smallest, and several ponds. Bau Ba is 14.5 m at the deepest point and Bau Ong is 22 m deep. The two lakes have a combined water volume of 12,131,900 m3. The shallower ends of the lakes are covered in beautiful flowering lotuses,
and thus the area is sometimes referred to as "Lotus Lake" by tour companies; further adding to the great confusion of so many names for the same area. (Jeep Car included to move on Sandunes).
16:00: Go back to Ho Chi Minh City
20:00 Ho Chi Minh Arrival
Note: The dinner you will discover by yourself, because we believe in that you will feel a bit bored with our set menu (may be our food is not your favorite food), therefore, leave you some dinners to try Sai Gon street food will be better that our set menu
Meals: Breakfast, Lunch, Dinner
Accommodation: Stay overnight in Elios Hotel 3*
Day 5: Mekong Delta Tour 1 Day (B,L)
After breakfast, we will have s smooth one-and-half-hour bus ride through rice field scenery along National Highway 1 brings you to the beautiful rural district of Trung Luong.
On arrival at My Tho, after visiting Vinh Trang pagoda, take a motor boat to enter My Tho city through Bao Dinh natural canal. Take a leisurely cruise on the Tien River to view the four beautiful islands known as Dragon, Unicorn, Phoenix and Tortoise islands.
Enjoy lunch at the local restaurant, then visit the coconut candy mill and take an amazing rowing boat trip along the small canal on a hand-rowed sampan under the shadow of the water coconut trees along natural canals. Then enjoy seasonal fruit & honey tea to the sound of "Southern Vietnamese folk music", performed by locals.
Meet at the bus and return to Ho Chi Minh City. This trip provides a fascinating insight into daily life in the Mekong Delta and you are guaranteed to take home your own private collection of beautiful memories.
Note: The dinner you will discover by yourself, because we believe in that you will feel a bit bored with our set menu (may be our food is not your favorite food), therefore, leave you some dinners to try Sai Gon street food will be better that our set menu
Accommodation: Stay overnight in Elios Hotel 3*
Day 6: Sai Gon City Tour – Departure (B,L)
After breakfast, we depart to visit Sai Gon City tour half day, first of all we visit Independence Palace, also known at the Reunification palace, was built on the sight of the former Norodom palace. The Independence palace is a widely known landmark of Ho Chi Minh City and was designed by the architect Ngo Viet Thu. It was the sight of the end of the Vietnam/American war in 1975, as a North Vietnamese army tank crashed through the gates. The tank is still located at the Independence Palaces' property.
Continue seeing the beautiful structures from the French Colonial times such as the Notre Dame Cathedral, the historic Central Post Office. Followed by the remarkable site of the War Remnants Museum the museum has a vast display of the both the Indochina wars. In courtyard massive military vehicles are for exhibition as well as tiger cages for the visitor to get a feel on how it was to be a prisoner during wartimes. In the museum building itself, each floor will represent a separate theme from the war and the war crimes committed towards the Vietnamese people. After city tour, we have lunch at local restaurant
After lunch, around 13:00 pm we will depart to airport to fly back your home.
Our Prices Include:
- Accommodation based on double/twin/triple share
- All private airport transfer (2 ways airport transfer)
- Whole private tour 6D5N
- Meals as indicated on the tour
- English speaking guide
- Entrance and visiting fees
Our Prices do not Include:
- Visa to Vietnam (tourists must obtain before traveling to Vietnam)
- International flights to and from Vietnam
- Airport departure tax if required
- Travel insurance (trip, medical and personal)
- Daily personal expenses
- Early check-in or late check-out at hotels
- Tip and gratuity for local tour guides and drivers
Recommend for you: