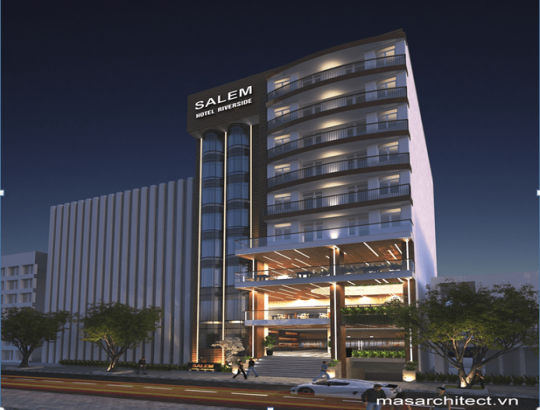 Salem Riverside Hotel
Code: SRH
Price : Contact us for the best price
---
---
SALEM RIVERSIDE HOTEL!
Like Salem petals with intense vitality, enduring with the desire to define themselves. Salem Riverside Hotel is located on the East bank of the Han River Bridge, at the crossroads between the river, the sea, the sky and clouds.
From the hotel, you can admire the glorious Han River, overlooking the city of worth living, with the famous bridges: Han River Bridge, Dragon Bridge, Thuan Phuoc Bridge sparkling with art light.
From the hotel, you can easily reach the famous places:
0 minutes stroll along the romantic Han River

1 minutes stroll to Han River bridge

3 minutes by motorbike to Da Nang beach

7 minutes by motorbike to the Han market

10 minutes by motorbike to Cham Museum and Dragon Bridge

15 minutes by taxi to Da Nang International Airport

20 minutes by taxi to Son Tra Peninsula

30km by taxi to Hoi An Ancient Town
ROOM
PREMIUM TWIN WITH RIVER VIEW
VIEW: Balcony, River view, Han River Bridge and Dragon Bridge view

SIZE: 30m²

BUFFET BREAKFAST: Included in the room price​
​
BED: double bed​
​
MAX: 02 adults + 02 children under 6 years old​
​
SMOKING: Non-smoking rooms​
​
BATHROOM: Shower bath​

COMPLIMENTARY: Drop off at the airport, fresh fruit and flower, shuttle bus to the beach, mineral water/ day, tea, coffee/ day

EQUIPMENT: ​Sofa, flat TV, minibar, telephone, cable TV, air conditioning, desk, safety box, electric kettle, hair dryer
DELUXE TWIN WITH BALCONY
VIEW: Balcony, River view, Han River Bridge and Dragon Bridge view

SIZE: 27m²

BUFFET BREAKFAST: Included in the room price​
​
BED: Twin beds​
​
MAX: 02 adults + 02 children under 6 years old​
​
SMOKING: Non-smoking rooms​
​
BATHROOM: Shower bath​

COMPLIMENTARY: Drop off at the airport, fresh fruit and flower, shuttle bus to the beach, mineral water/ day, tea, coffee/ day

EQUIPMENT: ​Sofa, flat TV, minibar, telephone, cable TV, air conditioning, desk, safety box, electric kettle, hair dryer
DELUXE TRIPLE CITY VIEW
VIEW: Window, City view

SIZE: 23m²
​
BUFFET BREAKFAST: Included in the room price​
​
BED: Double bed + Single bed​
​
MAX: 03 adults ​
​
SMOKING: Non-smoking rooms​
​
BATHROOM: Shower bath/ bathtub​

COMPLIMEMTARY: Drop off at the airport (over 2 nigths), shuttle bus to the beach, mineral water/ day, tea, coffee/ day

EQUIPMENT​: Flat TV, minibar, telephone, cable TV, air conditioning, desk, safety box, electric kettle, hair dryer
PREMIUM DOUBLE WITH RIVER VIEW
VIEW: Balcony, City view

SIZE: 25m²
​
BUFFET BREAKFAST: Included in the room price​
​
BED: 01 beds king-size
​
MAX: 02 adults + 02 children under 6 years old​
​
SMOKING: Non-smoking rooms​
​
BATHROOM: Shower bath/ bathtub​

COMPLIMEMTARY: Drop off at the airport (over 2 nigths), shuttle bus to the beach, mineral water/ day, tea, coffee/ day

EQUIPMENT: Flat TV, minibar, telephone, cable TV, air conditioning, desk, safety box, electric kettle, hair dryer
DELUXE DOUBLE ROOM WITH BALCONY
VIEW: Window, River view, Han River Bridge and Dragon Bridge view, city view

SIZE: 27m²
​
BUFFET BREAKFAST: Included in the room price​
​
BED: double beds
​
MAX: 02 adults + 02 children under 6 years old​
​
SMOKING: Non-smoking rooms​
​
BATHROOM: Shower bath/ bathtub​

COMPLIMEMTARY: Drop off at the airport (over 2 nigths), shuttle bus to the beach, mineral water/ day, tea, coffee/ day

EQUIPMENT: Flat TV, minibar, telephone, cable TV, air conditioning, desk, safety box, electric kettle, hair dryer
SALEM SUITE RIVER VIEW WITH BALCONY
VIEW: Balcony, River view, Han River Bridge and Dragon Bridge view

SIZE: 45m²

BUFFET BREAKFAST: Included in the room price​
​
BED: King-size bed​
​
MAX: 02 adults + 02 children under 6 years old​
​
SMOKING: Non-smoking rooms​
​
BATHROOM: Shower bath​

COMPLIMENTARY: Drop off at the airport, fresh fruit and flower, shuttle bus to the beach, mineral water/ day, tea, coffee/ day

EQUIPMENT: ​Sofa, flat TV, minibar, telephone, cable TV, air conditioning, desk, safety box, electric kettle, hair dryer
Recommend for you: