TRAVEL DANANG - THE MOST LIVABLE CITY IN VIETNAM
Introducing Da Nang tourism
Located in the South Central region, Danang has both mountains, plains and seas. Popular tourist attractions when traveling to Danang include Ba Na tourist area, My Khe beach, and the largest Fantasy Park indoor entertainment area in Asia. Da Nang also has many enchanting landscapes such as Hai Van Pass, primitive forest in Son Tra Peninsula and Ngu Hanh Son. Especially, Danang is surrounded by 3 world cultural heritages of Hue, Hoi An and My Son, and a little further is Phong Nha - Ke Bang National Park. Every year, Da Nang organizes the Fireworks Festival to attract many tourists to attend.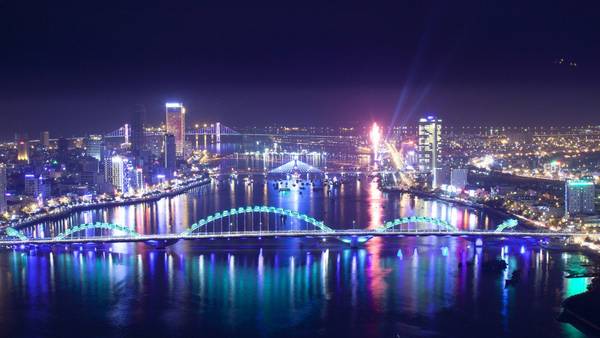 Photo: dukdndanang
Weather, travel time
Danang is a city in the South Central region, so it has a typical monsoon tropical climate, high temperature and low volatility. Each year there are two distinct seasons: the rainy season from August to December and the dry season from January to July. To avoid the effects of rain and storms, the best time to travel to Danang is from February to August. annual. However, if you want to travel economically, visitors should go around January to April because this time the atmosphere of Da Nang is quite cool, without storms and especially the price of services is softer than in June to March. 8.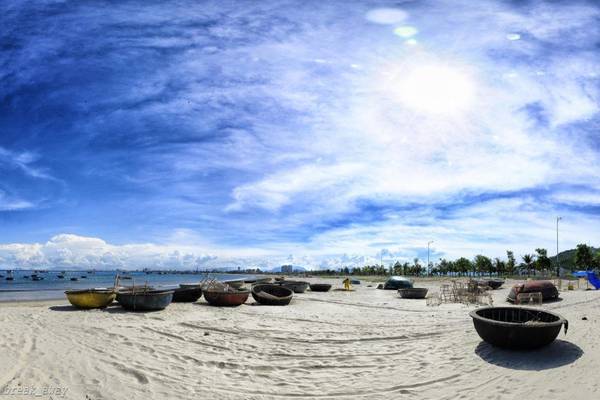 A corner of My Khe beach, Da Nang. Photo: Quang Vu
Sightseeing: Monuments, beaches, sights of Da Nang tourism
CENTER CENTER: DISTRICT THANH THANH KHAI AND HAI CHAU
Museum of Champa Sculpture Art (commonly known as Cham Monastery): the world's only museum of Cham culture, preserving the ancient relics of the Kingdom of Champa.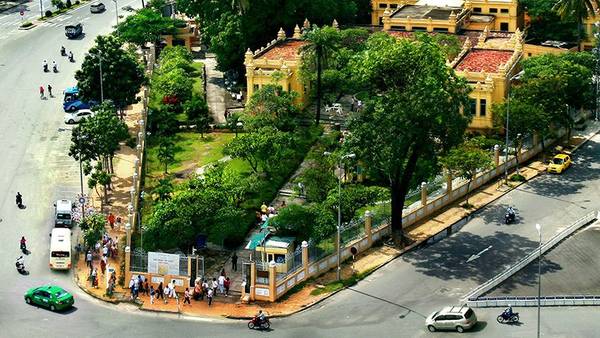 The museum looks from above. Photo: tourism.danang.vn
Address: No. 2, Road 2/9, Hai Chau District, Da Nang
Han River Bridge: The Han River Bridge is built on the main axis of Bach Dang Street, connecting Hai Chau District with Son Tra District, a rotating bridge is the pride of Da Nang people. The bridge is beautifully sparkling and stands out among the city whenever night falls. A special feature is that every night, the Han River Bridge turns 90 degrees around the center axis for large ships to pass through. Starting from October 14, 2015, Da Nang People's Committee Office said, it has officially adjusted the rotation time of the Han River earlier to serve residents and visitors to enjoy a more convenient turnaround bridge.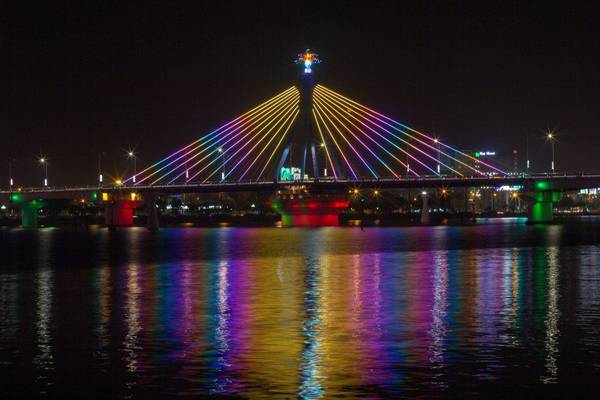 Photo: dananghoian.com
Accordingly, Han River Bridge spins from 23h - 24h on every Saturday and Sunday (1 hour earlier than before). At the same time, pause the vehicles passing through the bridge 15 minutes before the time of the bridge starts to spin until the time of the turnaround time.
Dragon Bridge: new bridge inaugurated in 2013, connecting the road from Da Nang airport to My Khe and Non Nuoc beaches. "Dragon" on the bridge is capable of spraying fire and spraying water like real at 21:00 on Saturdays, Sundays and holidays.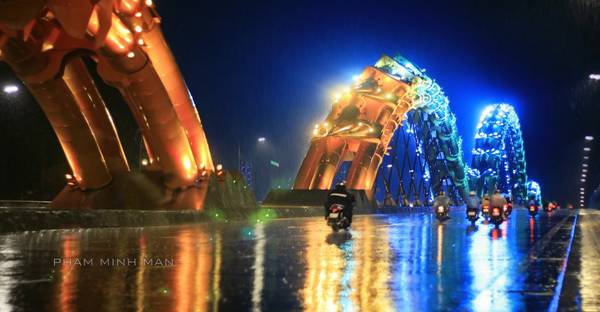 Dragon Bridge a rainy day. Photo: Pham Minh Man
Con Market: is the biggest trading area in the city. Da Nang and the Central region. The number of tourists coming to Con market today is not only to buy but also an attractive attraction of Da Nang tourism.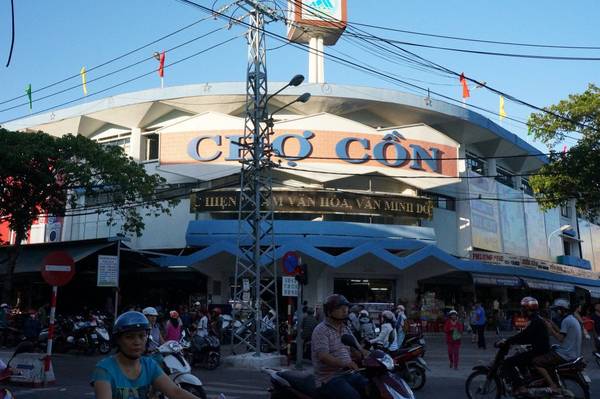 Photo: dananghoian.com
Location: Cho Con is located in Hai Chau II ward, Hai Chau district, located at the intersection of Hung Vuong road - Ong Ich Khiem.
SONTRA RESORT AREA / MONKEY MOUNTAIN
Located 10 km from the center of Da Nang city to the East, Son Tra is considered a "jewel", with a long coastline, winding, and diverse flora and fauna. The peninsula is located in Tho Quang ward, Son Tra district with an area of ​​4,439 hectares of land. It has a long, clear blue coastline all year round, along with Hai Van Pass that encompasses Da Nang City and Danang Bay.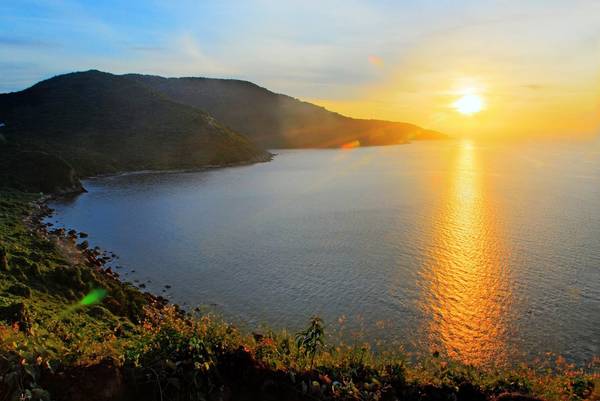 Dawn on Son Tra Peninsula. Photo: Khan G Nguyen
Linh Ung Pagoda: Linh Ung Pagoda Son Tra also known as Linh Ung Pagoda Bai But (distinguished from Linh Ung Pagoda Ngu Hanh Son and Linh Ung Pagoda Ba Na) is the largest temple in Da Nang city in both scale and ants. architectural art.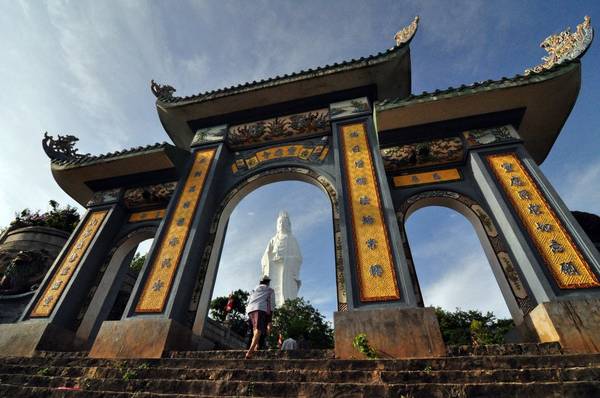 Linh Ung Pagoda. Photo: Ee Shawn
Fairy Stream and Da Stream: two beautiful wild streams located in Son Tra Mountain, are familiar places in the schedule of Da Nang tours to Son Tra Peninsula.
Bai But (Bai But Bay): Lying in a very beautiful strait, the Bai beach is a place where the sea and the mountains are intersected.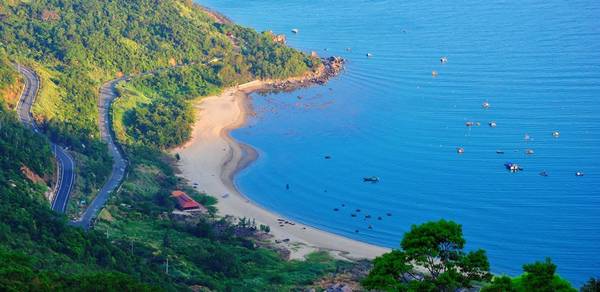 Dump. Photo: Panagiotis Papadopoulos
EAST COAST BEACHS IN DANANG CITY
My Khe Beach: 3 km from the center of Da Nang city, crossing the Han River bridge, going straight to Pham Van Dong big road 1.5 km to the east, you will reach My Khe. This beach is famous for fine white sand, mild ocean waves, warm water all year round, and poetic coconut trees surrounded. In particular, My Khe was also selected by Forbes as one of the six sexiest beaches on the planet.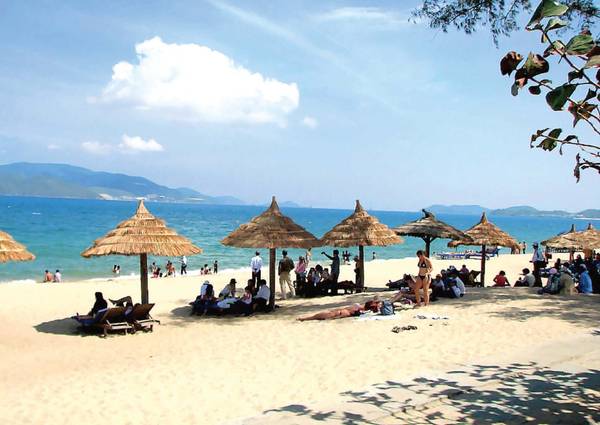 Photo: danangfoodie.com
Pham Van Dong Beach: This is a public beach built at a cost of 12 billion VND, a place to attract local residents and tourists everywhere. Location: Located in Phuoc My Ward, Son Tra District, at East Sea Park.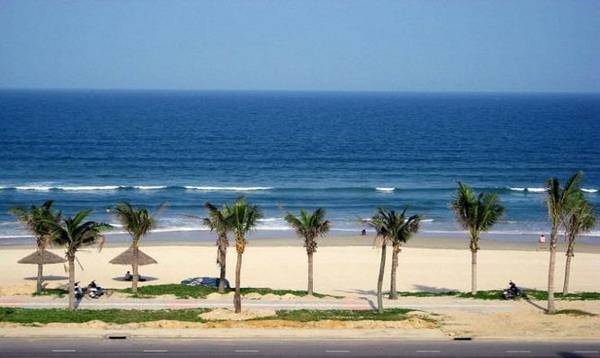 Photo: ttvnol.com
Bac My An Beach: is a beach in Bac My An Ward, Ngu Hanh Son District, Da Nang. Smooth white sand and clear blue water with low temperature difference year round are the advantages of this beach.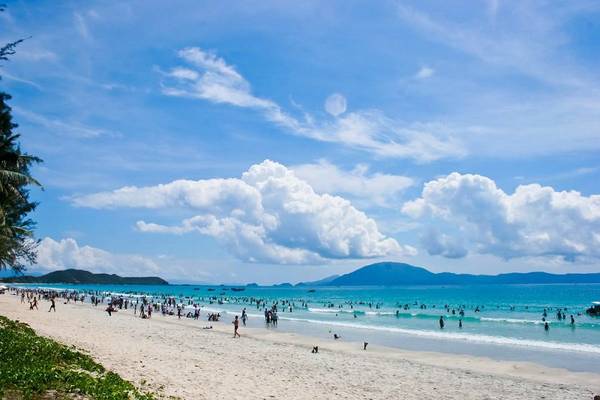 Photo: viettravelguide.info
With the system of hotels near the sea stretching beautiful beaches of Da Nang, visitors can feel secure with friends and family enjoying the wonderful holidays here. As a major tourist city of the country, Da Nang warmly welcomes hundreds of thousands of domestic and international visitors each year with the clean sea space and the best Danang hotels. Come to Da Nang to feel the love and the sea in every breath.
NGU HANH SON AREA
Tam Thai Temple: located west of Thuy Son Mountain, one of the five famous mountains of Marble Mountains.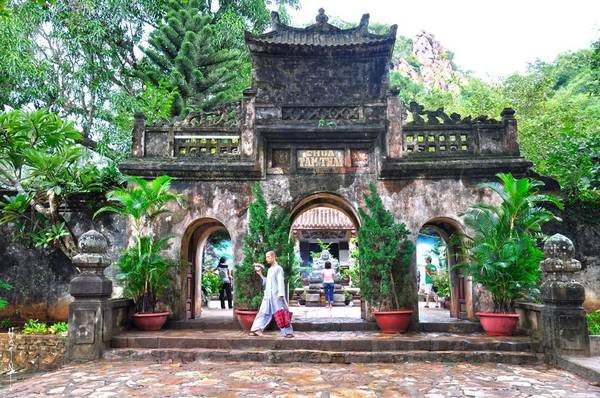 Tam Thai Temple. Photo: ST

Non Nuoc fine-art stone village: is a place of producing marble handicrafts famous throughout and outside the country. Location: Non Nuoc fine-art stone belongs to Hoa Hai ward, Ngu Hanh Son district.

Non-water beach: 5km long with tourist area with cool pine hill under Ngu Hanh Son. White sandy beach, gentle slope, smooth waves. Sea water is not polluted and clean, attracting domestic and foreign tourists to Da Nang tourism.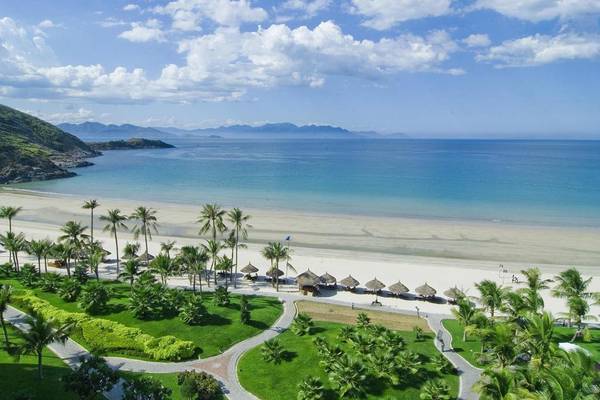 Photo: travelsviet
NEXT TO THE CENTER DANANG CITY
Ba Na - Nui Chua: Is a mountain range in Hoa Vang district, 40 km southwest of Danang. In Ba Na, visitors will feel four separate seasons in a day: morning - spring, lunch - summer, afternoon - autumn, evening - winter. This is a famous destination of Da Nang tourism.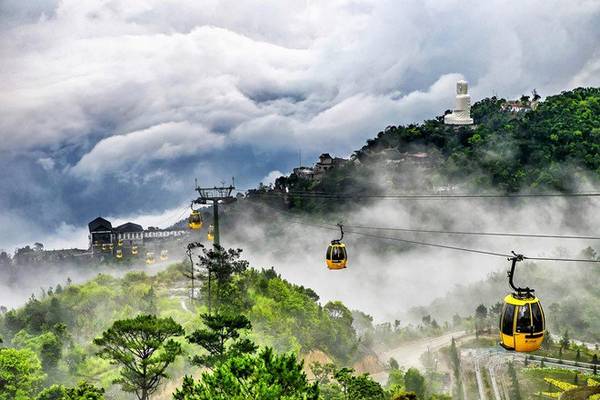 Bana in the clouds. Photo: Nguyen Thi Thu Trang.
Hai Van Pass: Is the Truong Son mountain range jutting out into the sea. Closing and dangerous, Hai Van Pass is the boundary between the South and the North.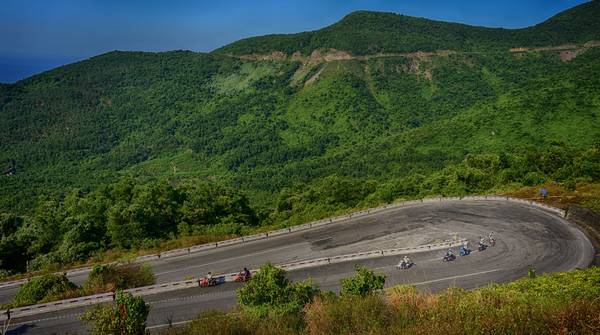 The "legendary" part of the Hai Van Pass. Photo: Emily Nguyen
Cam Ne projection village: 14km from the center of Da Nang city to the southwest, Cam Ne projection village is in Hoa Tien commune, Hoa Vang district, Da Nang city. The place has long been famous for its traditional flower mats, which were present in the Nguyen dynasty's internal court.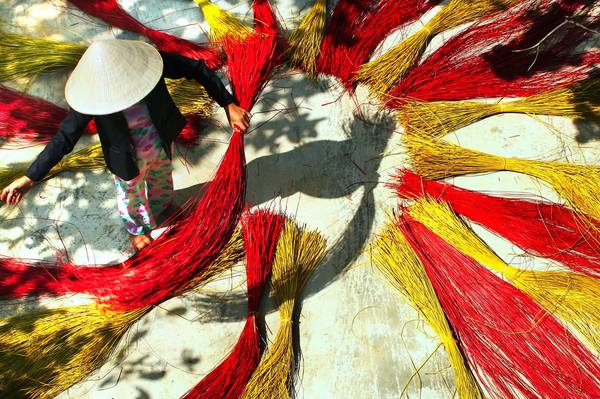 Photo: dananghoian.com
Tuy Loan ancient village: Ancient village is located in Hoa Phong commune, Hoa Vang district, about 15km from Danang city center. The old village of Tuy Loan is over 500 years old. Coming to Tuy Loan ancient village, you should not miss the opportunity to taste the specialties of rice paper and Quang noodle noodles in the near and far of Da Nang tourism.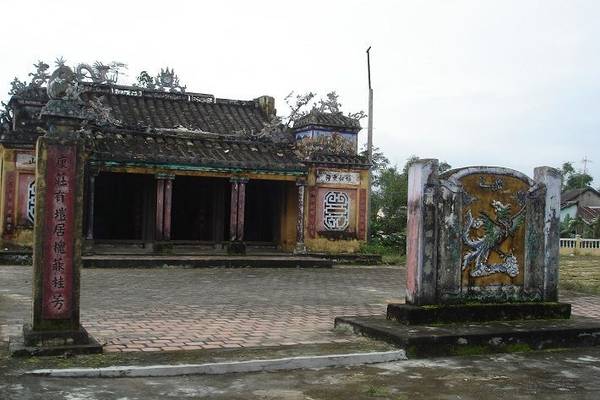 Tuy Loan village temple. Photo: ST
The sky: The well is located in Ba Na - Nui Chua conservation area, Da Nang, which has the famous Ba Na Hills tourist area. Wild landscapes are a source of inspiration for phượt people, with various types of picnics such as trekking, climbing, camping or stream bathing.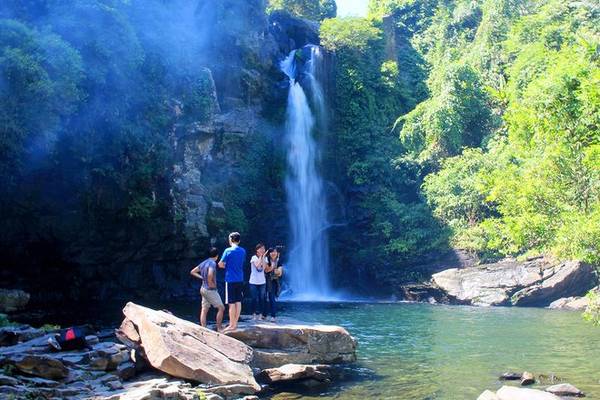 Photo: Ho Ngoc Thanh
Starting from the parking lot of Ba Na cable car park, phượt players must conquer 7.5 km of winding mountain pass roads, crossing streams and forests to reach this "phasing point". Passing the first slope, the remaining road is easy to go. Because of this, the place is like an isolated and untouched place.
Nam O Reef: About 2km from the center of Nam O village (Hoa Hiep Nam ward, Lien Chieu district, Da Nang - located between Da Nang and Hai Van pass) has a reef, fishermen in the area called Nam O reef. Nam O reefs have a lot of algae, so they are home to many precious fish and seafood.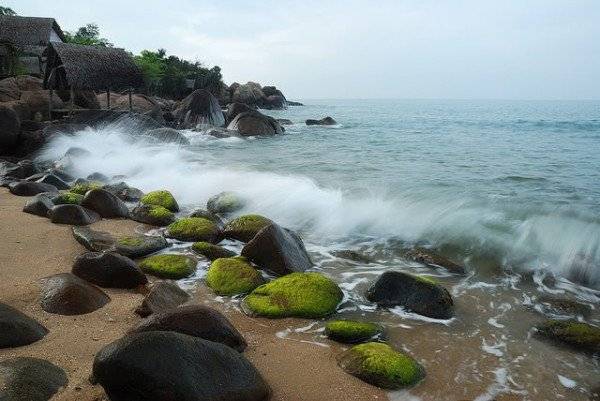 Nam O Reef. Photo: ST
source from ivivu.com