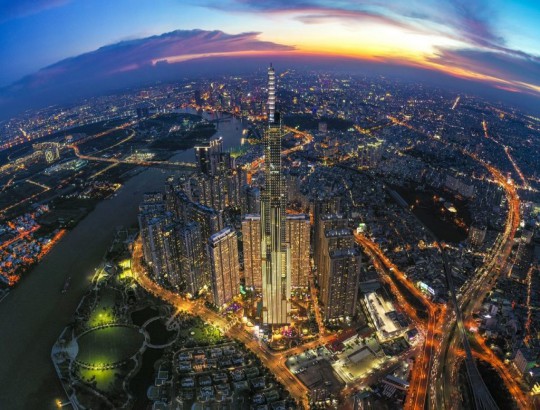 VIETNAM TRIP 15D14N
Code: VNT-15D14N
Price : Contact us for the best price
---
---
VIETNAM TRIP 15D14N
TOUR DESCRIPTION
Day 1: Hanoi arrival – Hanoi Street Food Tour (D)
Day 2: Hanoi - Halong bay 2 days, overnight on cruise (B,L,D)
Day 3: Halong Bay – Hanoi (light breakfast, brunch)
Day 4: Hanoi – Sapa – Fansipan Peak - Lao Chai – Ta Van Village (B,L,D)
Day 5: Sapa – Cat Cat Village – Hanoi (B,L,D)
Day 6: Hanoi Thu Le Zoo – Fly to Danang (B,L,D)
Day 7: Ba Na Hill – Hue (B,L,D)
Day 8: Hue 1 Day City Tour – Hoi An (B,L,D)
Day 9: Hoi An – My Son – Hoi An Ancient Town - Hoi An Basket Boat (B,L,D)
Day 10: Vinpearl land Southern of Hoi An (B,L,D)
Day 11: Danang Departure – Fly to Ho Chi Minh – Cu Chi Tunnel (B,L,D)
Day 12: Mekong Delta Tour 1 Day – Thao Cam Vien Park (B,L)
Day 13: Ho Chi Minh – Mui Ne (B,L,D)
Day 14: Mui Ne - Ho Chi Minh (B, L)
Day 15: Ho Chi Minh Departure (B)
DETAILED ITINERARY
Day 1: Hanoi Arrival – Hanoi Street Food Tour (D)
Upon arrival, our driver will welcome your group at the gate of the airport, you just follow him to Hanoi hotel
When you reach Hanoi, you will be free and easy till 16:00, we will arrange you to enjoy all the nice street food
16:00 – 19:00: We depart to enjoy street food tour, we will arrange you to enjoy some base famous food in Hanoi, like: BUN CHA, PHO HANOI, BANH MY HANOI, SPRING ROLL, EGG COFFE
Note:
The time can be change depend on your time arrival

Because we arrange many type of foods, so 2 people will share 1 bowl (big bowl) to make sure that your stomach can cover all the nice food
Overnight in Hotel in Hanoi
Day 2: Hanoi - Halong bay 2 days, overnight on cruise (B,L,D)
08:00: Pick up at your hotel to Halong bay
12:30: Receptionists welcome guests at the International Tuan Chau harbour.
12:45: Captain welcomes guests to Syrena cruises by tender. Check in cruise, whilst enjoy a welcome drink, safety briefing and check in cabin.
13:00: Leaving International Tuan Chau harbour, discover the Halong Bay - natural wonders of the world. Have lunch with special foods while cruising through famous sights Ba Hang fishing village, Đỉnh Hương island, Chó Đá islet, Gà Chọi islet...
14:30: Cruise stops at Bồ Nâu cave, the core area of the world natural heritage. Transfer by tender to Surprise cave - one of the most beautiful caves in Halong Bay.
15:45: Leaving Surprise cave, transfer by tender to the Titov island was named by Uncle Ho, after Gherman Stepanovich Titov - the Soviet astronaut who visited in 1962 Enjoy swimming, relaxing on the beach or climb the steps of the Rock to the top of the island. On the top of the mountain, you can see corner of magical Halong Bay ...
16:45: Back to the cruise. Relax and enjoy sunset on the sun deck. Go to the overnight place.
18:00 – 19:00: HAPPY HOUR - Buy 1 drink get 1 free (wine excluded).
18:30: Enjoy Vietnamese cooking demonstration.
19:00: Acquaint yourself with the set menu dinner.
20:30: Evening activities include: film entertainment (in the dining room); squid fishing; massage (contact with cruise manager for service price)...
Overnight on Cruise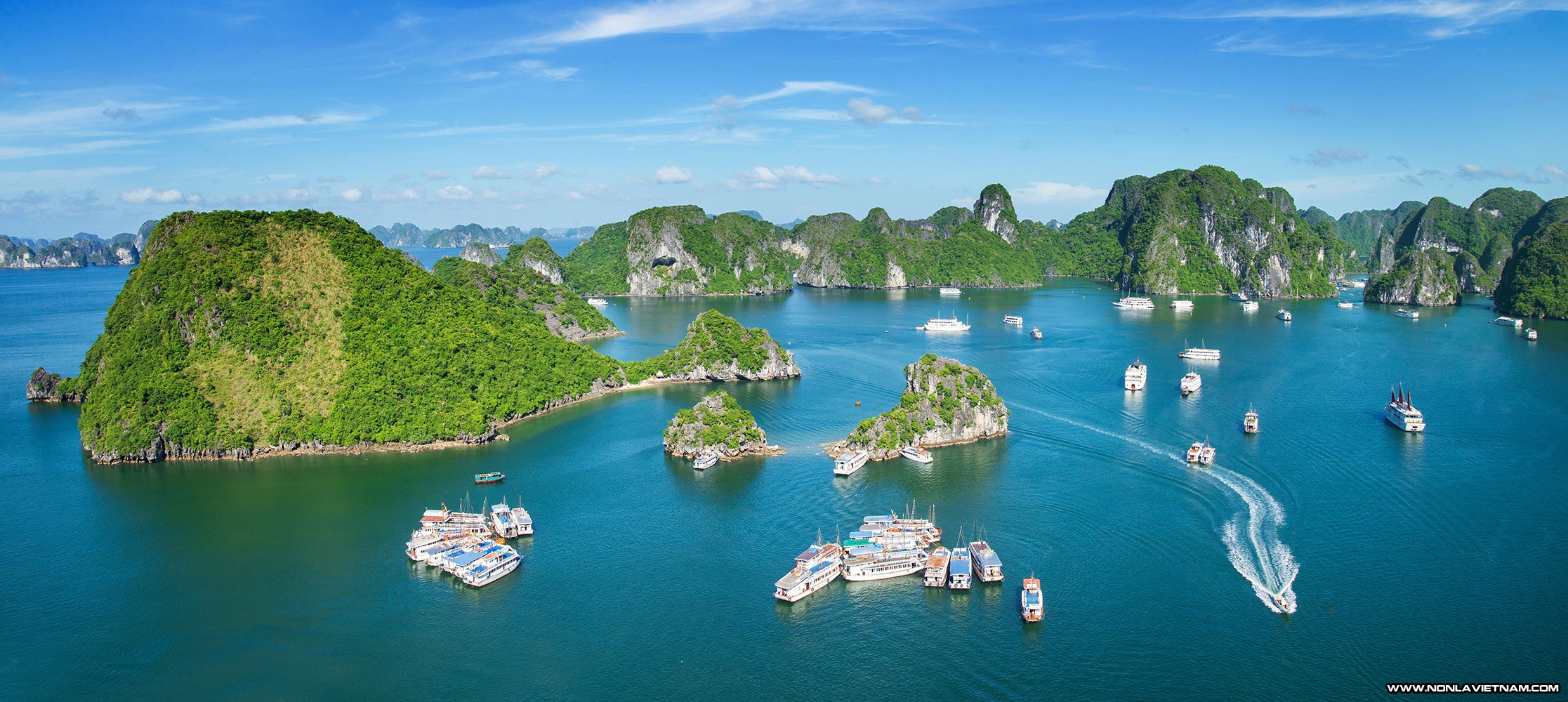 Day 3: Halong Bay – Hanoi (light breakfast, brunch)
06:00: Morning call (if you request).
06:30: Enjoy Tai Chi instructions on the sundeck in 30 minutes whilst cruising to Luồn cave.
07:00: Enjoy light breakfast in the restaurant (coffee, tea, fresh milk, water, pastries, bread, egg, fresh fruits, cereals will be served in the dining room).
08:00: After breakfast, take a guided tour to visit Luồn cave - .one of the cave open to the form beautiful about endemic the vegetation of the Halong Bay. Visit Luồn cave by a traditionally woven (bamboo) boat rowed by a local boatman.
08:30: Then come back to Syrena cruise, relax and check out of cabin. Please put your luggage outside the door. Our porters will collect and get them ready on the Pier for you. Finally, the cruise disembarks in International Tuan Chau harbour.
09:15: Enjoy brunch buffet menu served in the dining room. Settle bills in the dining room after brunch (if you have).
10:45: Transfer by tender back to Tuan Chau harbour and disembarkation. Farewell to guests.
14:30: Hanoi Arrival
* The itinerary can be changed due to the check-in time and the weather conditions.
Overnight in Hanoi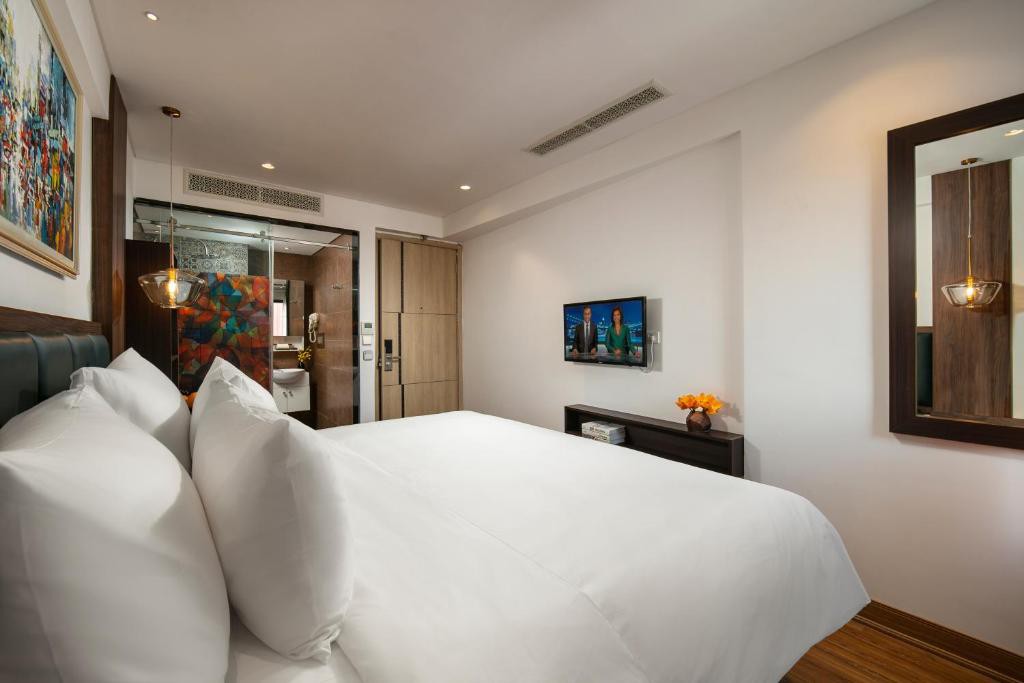 Day 4: Hanoi – Sapa – Fansipan Peak – Lao Chai – Ta Van Village (B,L,D)
06:00: you will have breakfast at the hotel
06:30 – 07:00: The limousine van will pick you up to Sapa
12:00: Sapa arrival – check in hotel and have lunch
14:00: Depart to visit Fansipan peak. We will walk some hundreds metters to Muong Hoa train, then we take train to Fansipan cable station, after that we take cable to Fansipan peak.
After that, we continue to visit Lao Chai – Ta Van Village.
18:00: Come back to hotel, take a rest and have dinner
Stay overnight in Sapa

Day 5: Sapa – Cat Cat Village – Hanoi (B,L,D)
08:30: Start the trip to Cat Cat Village
After breakfast, you will have a pleasant tour to Cat Cat village, home to Black H'mong people. You will walk with your English speaking guide downhill about 4 km. On the way to the village you have the opportunity to enjoy breath taking scenery of the mountains range and peaceful Muong Hoa valley; notice the villagers working on the paddy rice fields, their children playing around, and their animals such as: water-buffaloes, pot-bellied pigs and chickens. You can also see on the way an old hydro-electric power station which was built in the early 20th century by French. After crossing a village, we'll arrive to a beautiful waterfall which is a good place for refreshing and taking pictures
13:00: Lunch at local restaurant in Sapa
15:30: We depart for Hanoi
21:00: Hanoi arrival.
Overnight in Hotel in Hanoi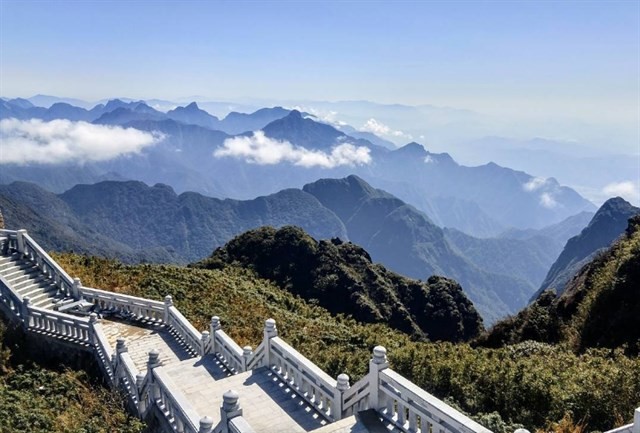 Day 6: Hanoi Thu Le Zoo – Fly to Danang (B,L,D)
Breakfast at the hotel
After that we will visit Thu Le Zoo
Pick up to Noi Bai airport before your flight time 2 hours to fly to Danang
Upon your arrival in Danang, you will be driven to Danang city
Then we visit Son Tra Peninsula and Danang city (My Khe beach, Dragon Bridge, Con Ga church)
Overnight in Da Nang
Day 7: Ba Na Hill – Hue (B,L,D)
After breakfast, we explore Bana Hill King Mountain, also known as the second DaLat/ Sapa in Central. The beautiful weather here is always cool.
You will admire the high by the most modem cable car system in Southeast Asia, you will visit France wine cellar, Linh Ung pagoda, La Jardan, then you will see the panorama of Danang City.
Then, we freely visit and play game at the Fantasy Park or Explore King Peak at an altitude 1.487m, you can see panorama view of the Bana Hills and Quang Nam - Da Nang on high. On the top of mountain have that Linh Ung Pagoda is a special temple construction.
The most important you need check in on Ba Na Hill is Golden Brigde which is hold by big hand – this is the most famous bridge in Da Nang
12:00: Have buffet lunch in restaurant
15:00: Get down to the hill for transferring to Hue city
17:30: We check out rooms then visit Dong ba market. Dong Ba market is the biggest and most significant central market of Thua Thien Hue province and the adjacent regions. In Dong Ba market, you can go shopping and see the daily life of local people.
Optional: If you want to spend more time on Ba Na Hill, you can choose to skip to visit Dong Ba Market in Hue
19:00: Dinner in a local restaurant
Overnight in Hue city
Day 8: Hue 1 Day City Tour – Hoi An (B,L,D)
After breakfast, we visit Citadel and the Forbidden Purple City, created in the 19th century for the Emperors of the Nguyen Dynasty.
Then we visit Thien Mu Pagoda, Huong river and Visit Tu Duc Tomb.
13:00: Lunch in local restaurant then we depart for Hoi An
On way, we stop at Marble Mountain (Ngu Hanh Son), Mountains of the Five Elements, consist of five marble mountains: wood, metal, soil, fire and water which is the highest one. This place is also famous for their traditional stonemasonry activities, 600 families chisel stone statues jewelry, and art work. Stone from the Marble Mountains has been exported to many countries. Then we continue our stop at Non Nuoc Beach (on the food of Marble mountain)
Then we go to Hoi An
19:00: Dinner in a local restaurant
Overnight in Hoi An
Day 9: Hoi An – My Son – Hoi An Ancient Town – Hoi An Basket Boat (B,L,D)
07:30: To begin your My Son Sanctuary tour, you will be picked up from your hotel by one of our drivers – we will then begin the scenic route to My Son. Positioned within the heart of a breathtaking valley, you will be able to gaze upon the monumental mountains that surround it. Once you have arrived at our destination, you will be given the opportunity to explore the fascinating ruins, learn about the different structures and what historic role they played. Furthermore, you will to also be able learn why it is considered one of the most significant Hindu complexes in South East Asia. After experiencing the My Son Sanctuary and stopping for any priceless photos you would like to capture or you will be driven back to your Hoi An to end a truly captivating experience.
12:30: Lunch in Hoi An ancient town
After lunch, we go to visit Hoi An Basket Boat in coconut forest within 1 hour
After that, we visit Hoi An Ancient town our first visit to Thang Loi Handicraft workshop in Phan Chu Trinh Street, You will have the chance to experience all the typical traditional handicraft of Hoi An, such as wood carving, mat weaving, lantern making, silk worm raising, spinning and weaving, table cloth making and embroidery picture. These handicrafts made great contribution to upgrade living standard of local people since Hoi An turn to be popular destination for the tourists. Then take a walk to Hoi An ancient town. We will start the walk from small alley from Phan Chu Trinh Street to Nguyen Thi Minh Khai Street. This is the typical ancient street of Hoi An, that can show you great atmosphere of the ancient town.
Visit the Japanese Cover Bridge – the symbol of Hoi An. After that visit Tan Ky, the most well-known and authentic ancient house in town. Then take a walk along the Nguyen Thai Hoc – the ancient street of Hoi An to the market of the town. Visit the local market of Hoi An and Phuc Kien Congressional Assembly Hall, the communal place for Chinese community from Fukien province in China as well the worshiping temple to Thien Hau, the Goddess protecting people on the sea – that was so important for the Chinese Merchant and Fishman in the past.
19:00: Dinner in a local restaurant
Overnight in Hoi An
Day 10: Vinpearl Land Southern of Hoi An (B,L,D)
Breakfast at hotel
Then you depark to visit Vinpearland Hoi An
VinWonders Nam Hoi An is one of the most attractive destinations in the Central region and is the ideal choice for an endless entertainment journey that combines the unique cultural experiences of Vietnam and the world.
The 5 not-to-be-missed attractions in VinWonders Nam Hoi An
With an extremely large scale, the park was built with 5 large subdivisions namely Harbor Corner, Island of Folk Culture, River Safari, Adventure Land and Water World. Unless you have a VinWonders Nam Hoi An map, your discovery journey will most likely become confusing because you may be constantly "lost" in this vast world of cultural heritage and entertainment.
Harbor Corner:

Harbor Corner, Riverside Old Town, Palace of Dreams

Island of Folk Culture:

Explore the craft village, Admire the housing designs of different regions, Enjoy topnotch traditional art shows, Relive the atmosphere of folk festivals,

Water World:

Boomerang Slide, Lazy River, Wave Pool

River Safari:

Explore the world of waterfowl, Visit the kingdom of herbivores, Witness the life of carnivores, Visit the sanctuary of primates, birds and parrots

Adventure Land
Overnight in Hoi An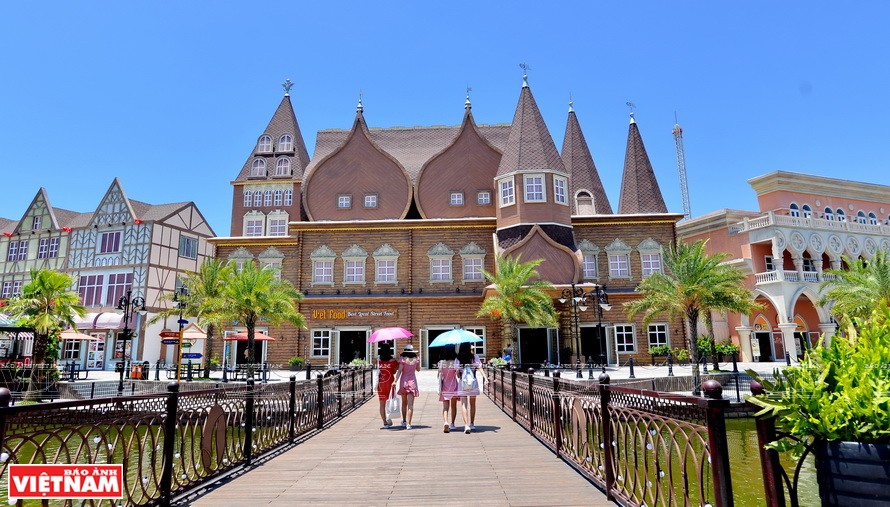 Day 11: Danang Departure – Fly to Ho Chi Minh – Cu Chi Tunnel (B,L,D)
07:00: You will enjoy breakfast at hotel
08:30: Pick up to the airport to fly to Ho Chi Minh City
13:30: Enjoy lunch in Ho Chi Minh City
After lunch, we dapart to visit Cu Chi Tunnel, the trip will take approximately one and a half hours bus driving. Upon arrival, you spend your time to explore the remaining area and tunnel systems which included the special constructed living areas with kitchens, bedrooms side by side with other martial facilities like storage, weapons factories, field hospitals, and command centers helping whoever lives inside the tunnels meet their basic needs. Besides, there are also many hidden trap doors and dangerous traps within the maze-like tunnels for security purpose during the war
19:00: Enjoy dinner at restaurant
Overnight in Ho Chi Minh city
Day 12: Mekong Delta Tour 1 Day – Thao Cam Vien (B,L)
Leaving the hustle and bustle of Ho Chi Minh City and start your trip to depart for My Tho, the town lies on the left side of the Mekong River. Upon arrival, visit Vinh Trang pagoda which sated back to the late 19th century. Then boarding the sampan and cruising down the river around the four beautiful islands known as Dragon, Unicorn, Phoenix and Tortoise islands.
Stop over at Unicorn Island, go walking around country lane and seeing orchards, enjoy tropical fruits, folk song music which performed by the local people. Visit the fruit plantation.
Riding a hand-rowed sampan through Thoi Son canal and treat yourself in the beauty of the countryside, visit the family business, visit honey-bee farm, enjoy honey tea and coconut candy workshop.
Have lunch at local restaurant. Break time.
In the afternoon, time for cycling around the Tan Thach village, meet the local villagers to experience the local daily life in the Mekong delta. Hammock relaxing and enjoy cool breeze for those can't join the cycling trip. Return to Ho Chi Minh City.
Continue to visit Thao Cam Vien – one of the oldest park in Ho Chi Minh City
Overnight in Ho Chi Minh city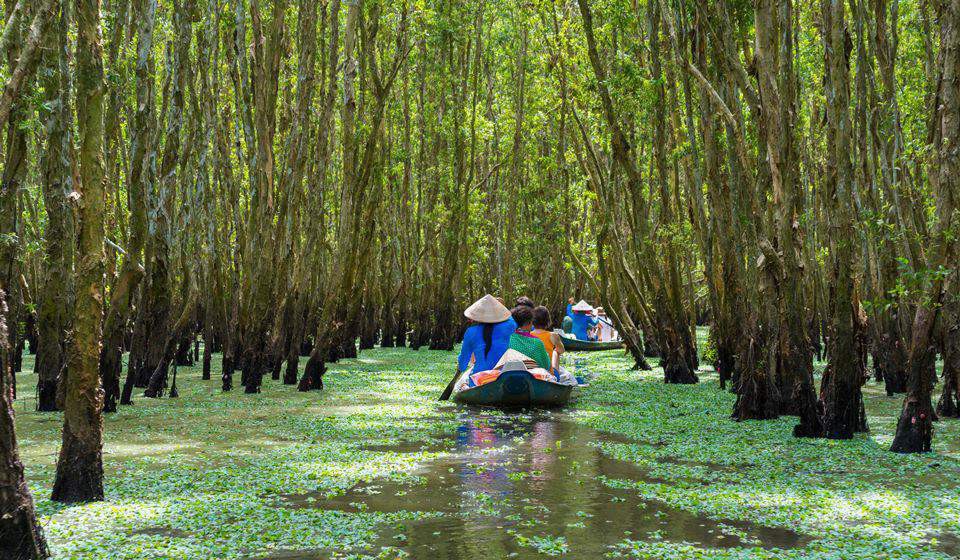 Day 13: Ho Chi Minh – Mui Ne (B,L,D)
07:00: Enjoy breakfast at hotel
08:30: Depart tp Mui ne
12:30: Mui Ne arrival, have lunch at the local restaurant
14:00: Check in hotel to keep your luggage, then we start to visit Thanh Minh Tu Pagoda - The temple is 170 years old, recognized as an architectural and artistic monument. Thanh Minh Tu Pagoda was built in 1846 under King Tu Duc. This 170-year-old "witness" with ancient beauty, quiet and peaceful but also carrying many ups and downs of time, was restored by Rang Dong Group within over 1 year (from October 2015 – Oct 2016)
Continue to visit Wine castle, which is a unique architecture in Vietnam, stores a variety of red wines, it's the best choice for international wine lovers. It takes guests back to the Middle Ages of Europe with a large square and ancient arch. By visiting RD wine castle, guests will have the opportunity to discover distinctive wine cellars. You can drop into the basement to witness wine bottles imported from Napa valley, California or the groundfloor for tasting international types of wine and visiting the wine supermarket with a variety of local specialties. The most romantic castle is the terrace, where boasts a picturesque orchid garden and a bar – café for guests to sip passionate glasses of wine.
After that, we continue to visit Pearl Museum
18:00: Back to hotel to relax, swimming on the beach or in the swimming pool in hotel
19:00: Dinner at restaurant
Overnight in Mui Ne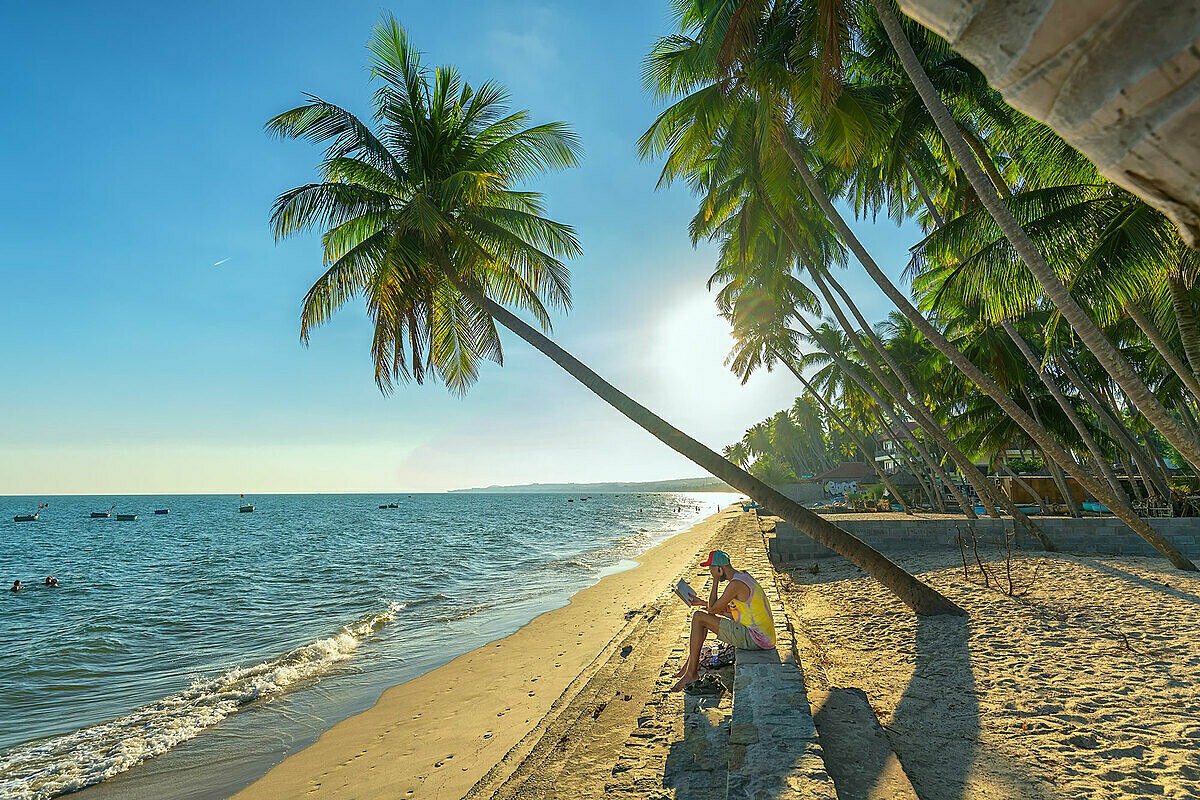 Day 14: Mui Ne – Ho Chi Minh (B,L)
Breakfast at hotel
Then we take a jeep car from hotel to visit all these places:
Fairy stream –

it is

an extremely romantic poetic place, one side of Suoi Tien is white and red sand mountain intermixing together, another side are rows of shading coconut palms, lines of trees with luxuriant leaves. All of these things create a poetic and charming stream.
Wind turbines

White sand road

White sand dunes

Red sand dunes

Fishing village
After that we enjoy lunch at restaurant before departing to Ho Chi Minh
It takes about 4.5 hours from Mui Ne to Ho Chi Minh
When we reach Ho Chi Minh, check in hotel, take a rest and have dinner
Overnight in Ho Chi Minh city
Day 15: Ho Chi Minh Departure (B)
Our Prices Include:
All private transfer whole trip

All hotel accommodation on tour

Halong Bay 2 Days 1 night (2 main meals + 1 Buffet brunch on cruise + 1 light breakfast)

Fansipan cable car ticket + Muong Hoa train ticket (US$ 40/pax)

Ba Na cable car

Private whole trip

Meals as indicated on tour

Entrance fees, Kayaking in Halong bay
Our Prices do not Include:
Visa to Vietnam (tourists must obtain before traveling to Vietnam)

International and domestic flights to and from Vietnam

Airport departure tax if required

Travel insurance (trip, medical and personal)

Daily personal expenses

Early check-in or late check-out at hotels

Tip and gratuity for local tour guides and drivers
Recommend for you: